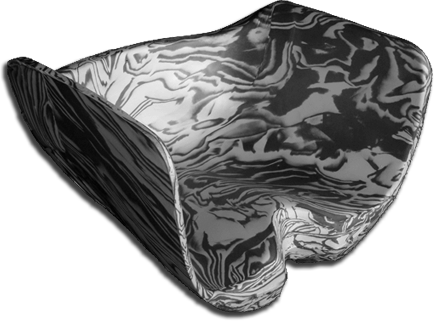 Bumfortable Kayak Seat
Features:
Forgiving: The inbuilt softness reduces pressure points and allows extra rotation.
Smooth surface finish allows ease of rotation to aid in paddle efficiency.
The Bumfortable closed cell foam can be custom moulded to your particular bum shape by gentle use of heat, (eg hairdryer, hot-water bottle, or domestic fan heater), if you so desire. It is also easy to cut, grind and glue.
Light weight & completely non-absorbent
Warm closed cell foam - the Gurney Gears Bumfortable is warmer on cold mornings and more comfortable than fibreglass. Less abrasive and much less likely to make your legs fall asleep.
Reduced pressure on ischial tuberosity (bum bones) by concavities in the underside of the Bumfortable.
Designed to prevent chaffing by structurally supporting your back while kayaking through proper posture, rather than allowing pressure on flesh where chaffing occurs.
Extended length into the hamstring area to reduce pressure and keep hamstings warm. This aids circulation and reduces cramps.
Lowers your centre of gravity which increases kayak stability (choose the model to suit your kayak's dimensions)
Reduced incidence of kayak hull damage - A rigid seat structure is more likely to hole the kayak when a rock scrapes along the hull because it represents a sudden change in elastic flexibility of the hull. A Bumfortable, by comparison, will allow the hull to continue elastically flexing as the hull passes along the obstruction highly reducing the chances of structural damage and subsequent required repair.
---
We Also Recommend